Afterschool Programs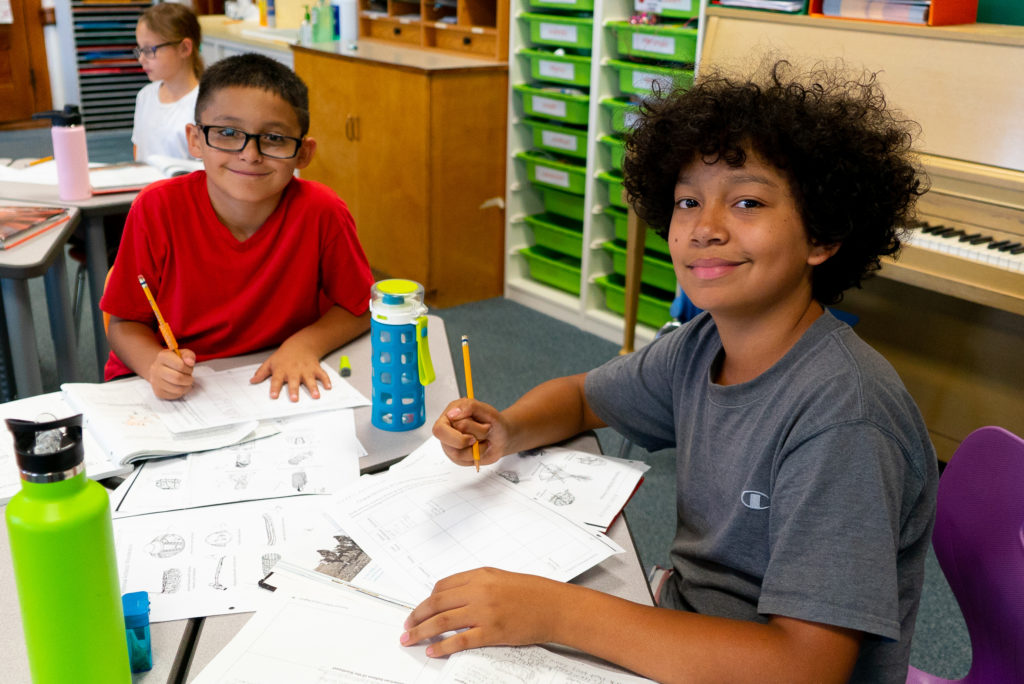 Students at Lincoln are offered a variety of after-school, extra-curricular activities held at different times throughout the school year. Below is a list of current after-school programs offered this school year. Information about dates and prices are sent home in Thursday Folders prior to the start of the club.
Please note that these programs are offered as extra-curricular activities and are not meant as a substitution for child care. Availability of the program is subject to change with number of students participating and programs may be cancelled on short notice in cases of emergency.
After-School Tutoring
After-school tutoring is offered to students in traditional 4th and 5th grade classes by a Lincoln staff member. This provides students with an opportunity to get assistance with their classwork or homework.
Please contact Mrs. Berry or Mrs. Jones for availability of this opportunity.
Club Amigos
Club Amigos is Colorado's premier Spanish enrichment program! Whether your student has no Spanish experience or has Spanish skills already, this fun-filled class is sure to strengthen their language skills.
More information can be found at Club Amigos.
Coding with Kids
Coding with Kids offers coding classes to students in K-6th grade through project-based learning with STEAM-focused classes. Coding with Kids aims to inspire lifelong learning by teaching real coding concepts and skills in a fun way! Students enhance important life skills, such as problem solving and critical thinking, all while creating games, stories, quizzes and more!
More information can be found at Coding with Kids.
Girls on the Run
Over a period of 10-12 weeks, girls in the 3rd through 6th grade participate in an after-school program like no other. Designed to allow every girl to recognize her inner strength, the Girls on the Run curriculum inspires girls to define their lives on their own terms. Throughout the season, the girls make new friends, build their confidence and celebrate all that makes them unique. At the end of each session, the girls participate in a 5K run. Completing the 5K gives the girls a tangible understanding of the confidence that comes through accomplishment, as well as a framework for setting and achieving life goals.
For more information visit their website, Girls on the Run of the Rockies.
Homework Club
Homework Club is offered to students in 3rd through 6th grade (and their younger siblings) who have limited computer/technology access outside of school to complete their weekly online homework. Students are provided support with homework, if needed.
This club is by invitation only, referred by the student's classroom teacher. However, if you would like to request your student attend Homework Club, please contact Ms. Jen.
Rhythm & Percussion
Elite music training for your child. Experience the unique method pioneered by music education visionary, Curtis Madigan. This curriculum is especially well suited for gifted learners. Fusing rhythm with mathematics, music is clarified and simplified. Hand-percussion is the perfect foundation and starting place for learning music. Mr. Madigan's curriculum develops the whole child, emphasizing character values and strengthening learning capacity with strategic and fun games. Workbook and materials included. There will be a performance the final day. Rhythm & Percussion teachers have degrees, Masters degrees, and even Ph.Ds in music.
For more information visit their website, Sound Formation.
Sticky Fingers
Let your child release their inner chef! Students will prepare and eat healthy, globally-inspired recipes all while loving and learning to cook in a fun, engaging and irresistibly tasty way that will turn even the pickiest eaters into avid food explorers!
We practice safe chopping, measuring and mixing skills, use a wide array of cooking utensils all while creating awesomely delicious recipes from the freshest ingredients. Full recipes will be created each class with our AWESOME masterchef Sticky Fingers Cooking instructors.
For more information visit their website, Sticky Fingers Cooking.
Young Rembrandts
Young Rembrandts drawing classes offer child-friendly and relevant subject matter to spark interest and increase knowledge retention, never losing sight that children learn best when they are engaged and entertained. Drawing programs are based on an acclaimed, step-by-step drawing method that works hand-in-hand with original art curriculum developed by a team of educators and artists. A multisensory approach to learning meets every child at their level.
For more information visit Young Rembrandts.